Through the turn of our middle years
where we learn of our hopes and fears, now we return
though in truth we never really went away
​​This post was free-written while listening twice through to the below recording of the song "Full Circle" by Rob Schiffmann and Jon Rothstein, a.k.a. The Hillary Step. I made myself stop when the 2nd play through stopped. Enjoy!
Full Circle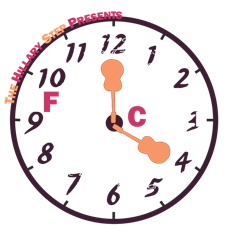 "Full Circle" was written to be the title / closing number for the original production of "Full Circle" which was done at a high school in Florida and directed by Nina Cochran, my and Jon's mentor and the best director of children's theater out there. We needed a closing number and, since we had already named the show "Full Circle", it felt appropriate to write a song with that title. We had named the show as such because it was directed by Nina and featured our songs while about 35 years earlier, young versions of Jon and I were in a play that Nina directed called "Troupers", with original songs written by Bob Phillips & Franco Renzulli, the song-writing team that inspired Jon and I to become the same. And so, we had come 'Full Circle'
I had nothing in mind in terms of sound when we sat down on Nina and Randy's back porch to write "Full Circle". I just knew it needed to sound like a finale and it needed to sum up the idea of having come full circle. Because I had nothing, I chose to go to one my favorite guitar tunings: C-G-D-G-B-D, which I find endlessly inspiring. Having done that, the song just came. Jon and I spent a good amount of time shaping the chorus. Once we had it, we realized that the lyrics themselves come full circle as they booked with the same line: "Full circle back again, way back to way back when, we traveled here from then, full circle back again." I particularly love the lyric: "Walk among all the years and days of our young and our wild ways. We have strung all them up to show the way through the turn of our middle years where we learn of our hopes and fears. Now we return. Though in truth, we never really went away". It feels very representative of where we are in our lives and what it is to look back. I also love the bridge and in particular, how the background melody, which is just an ascending line that ends with a nice long piece of silence, represents the lyric: "And all that we remember is laid before our eyes. As long as there's an ember, a fire never dies". That backing melody feels to me like a quietly growing fire and the silence feels like a moment to reflect on the idea that the past never quite goes away.
---
https://w.soundcloud.com/player/?url=https%3A//api.soundcloud.com/tracks/508909989&color=%23ff5500&auto_play=false&hide_related=false&show_comments=true&show_user=true&show_reposts=false&show_teaser=true&visual=true
Come hear "Full Circle" live!!
Wanna hear this song live and in the flesh?
"Full Circle: upbeat depressing songs about life in your 40s at four in the morning"
performs this coming weekend on 12/16 and 12/17.