"And here you are, on my side of the moon,
my side of the room, here you are"
This post was free-written while listening twice through to the below recording of the song "My Side of the Moon" by Rob Schiffmann and Jon Rothstein, a.k.a. The Hillary Step. I made myself stop when the 2nd play through stopped. Enjoy!
---
My Side of the Moon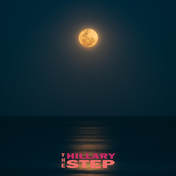 "My Side of the Moon" was written initially for a musical called "The Heartbreak Diet" by writer, Chris Piehler. It was one of our first 'hits', as it were. The response to the song was great. We even had some interest from a woman from ASCAP (who then ghosted, dang it). This is another song for which I love the chorus which has a nice leap of a perfect fifth on 'And here you ARE'. I love a good fifth on the chorus. Think of Shawn Colvin's "Sunny Came Home". That chorus is all about fifths: "Oh, days GO by, I'M hyp-NO-tized…". There is something triumphant about a major fifth as it grabs the heart and makes you soar with the melody. And when it's in the right range for the singer (just a tiny bit higher than comfortable), they can really soar on it. The bridge is a list of commands: "hold out, breathe in, blow out, hold in, come down, come in, blow out, breathe in". It reminds me of where Jon and I were at that time as writers. We were all about the verbs. I think that is a young songwriter tendency. It feels poetic and like you are saying something but at the same time, it's not terribly revealing. That said, it does sound killer!
This recording was performed by the students of St. Cloud High School in Osceola County, Florida for their February 2017 production of "Full Circle", directed by Nina Cochran and music directed by me!
---
https://w.soundcloud.com/player/?url=https%3A//api.soundcloud.com/tracks/404041971&color=%23ff5500&auto_play=false&hide_related=false&show_comments=true&show_user=true&show_reposts=false&show_teaser=true&visual=true
Come hear "My Side of the Moon" live!!
Wanna hear this song live and in the flesh?
"Full Circle: upbeat depressing songs about life in your 40s at four in the morning"
performs on 12/16 and 12/17.