Home, back to the one place where they're the same
as they were back when
And tomorrow they will do it all again
This post was free-written while listening twice through to the below recording of the song "Tomorrow, All Again" by Rob Schiffmann and Jon Rothstein, a.k.a. The Hillary Step. I made myself stop when the 2nd play through stopped. Enjoy!
---
Tomorrow, All Again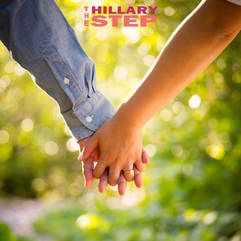 "Tomorrow, All Again" was written on our roof in Jersey City while working on a totally different song. Jon and I had been stuck on a lyric for a while, debating small detail and going back and forth for what seemed like forever. Jon is much more patient than I am and as such, my mind began to wander, as did my hands. I started playing a completely different riff (while he was talking) and then announced we now had to write a different song. This drove him nuts, as I often do with my whimsical ways but, I'm sure he would agree that it was a good move because the new song ended up being "Tomorrow, All Again".
​This song, which came out in about 45 minutes, has a special place in my heart. It has always reminded me of the song "Old Friends" by Simon and Garfunkel. It is lyrically inspired by imagining my parents getting older. My Dad and Step-Mother live on the upper west side of Manhattan. I picture them at the same diner for breakfast each day (not actually the case) and then my Dad reading the New York Times (definitely true). The story is not really accurate to the two of them but it inspired by seeing how they share their lives. I love the opening lyrics of this song: "Night hangs it's shade, black pearls upon a lady's neck, somewhere a waiter brings a check to a couple waiting there". I also love "and so she helps him up from the chair, they take their time as they climb the stair, his robe, his pills and she combs her hair like she did for him way back when and tomorrow they will do it all again". This song just kind of grabs my heart. My wife, Annie, tried to record a version of her vocal on this song but she couldn't get through it without crying. We were laughing / crying as she recorded.
---
https://w.soundcloud.com/player/?url=https%3A//api.soundcloud.com/tracks/508909905&color=%23ff5500&auto_play=false&hide_related=false&show_comments=true&show_user=true&show_reposts=false&show_teaser=true&visual=true
Come hear "Tomorrow, All Again" live!!
Wanna hear this song live and in the flesh?
"Full Circle: upbeat depressing songs about life in your 40s at four in the morning"
performs on 12/16 and 12/17.