Whenever I am improvising, be it for a live audience in the middle of America, for a corporate audience as a corporate emcee or for a high school audience in upstate NY, I have to be ready to be flexible in both my performance and my thinking. And so, in thinking about how we had to adapt the show for the recent educational shows I did with Broadway's Next Hit Musical in St. Bonaventure, NY, I had to dive into some deep psychology. While the framework of the show stayed basically the same (although we dropped the 2nd half due to a time restriction), the inner thinking behind the specifics of content was slightly different as we performed for kids from third grade through high school.
STAY TRUTHFUL!!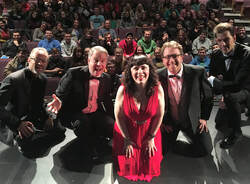 ​When we are given a song title, we have to then extrapolate outwards to get a sense of what that particular titles inspires in us around worlds. In what world would that title fit nicely? For example, if the title was "The Yummy Cupcake", it may make sense to set the scene and song in a bakery. While this usually gets our brains and those sneaky voices going a bit because we all doubt ourselves for whatever reason, it is also pretty easy to eventually settle on the obvious and proceed with the scene / song. However, when you know your audience is kids, it can those 'edit-yourself' voices get a little louder because you start to question the relevance of certain locations for kids. We ask ourselves silly questions like, 'do kids really care about the inner workings of bakeries? Shouldn't I just set it in a high school? Should I go sci-fi?' In other words, we are doing our best to live up to expectations we may have about what will resonate. But then, we relax and remember that improvisation is not about location. It's not about any one specific style. It's not about the relevance of a given concept. Improvisation is about being truthful in all contexts, with all details and in all locations. It's about exploring the relationship truthfully and remaining melodic and pure in our songs. It's about following.
And guess what: if we follow, kids will follow too because they will recognize all those universal truths!
---
And so…
So, do we tweak our show for an audience of kids? Yes we do and the way we do it is to more deeply remind ourselves to stay true and present and to trust.
Wanna see us follow the moment? Check us out when we come to YOUR town!!!