Last week, I had the good fortune of spending time in Lyon, France, where I had been hired by Creter Group to teach three communications courses. Each course brought with it many individual and unique insights and challenges. Our final course was on storytelling in a presentation. What the heck does that mean?!
Chapter 1: The Task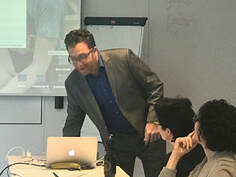 People are often tasked with having to present to various audiences in many varied industries, including media and health care. The knowledge and application of storytelling is important because it personalizes presentations and helps them to have not just an impact based on fact but also on emotion. My task was to teach the basics of how to tell an effective story and how to apply that knowledge to presentations.
---
Chapter Two: Story Structure
My students and I began our journey together by having participants give presentations that they had prepared specifically for this course. Once I had seen them in action, I was then able to begin talking about the basics of story structure.
I spoke about the need to start by showing the world on a normal day. In many stories, this is often done by using the familiar phrase "once upon a time." Once the typical day of this world was established, we moved on to the significant event. This refers to the "then one day" that we often hear in storytelling. It details the unusual event that changes the world from what it is on a normal day to something new. We then discussed the idea of consequences that lead to a secondary event ("but then…") and then ultimately to change.
This structure is at the basis of pretty much all stories you have ever heard. It is also the basis for the work I do as an improviser, whether as a corporate emcee or with Broadway's Next Hit Musical. We tell stories that make sense and feel consistent with what we know from movies, plays and books because we have a collective understanding of the the basic beats of a story. In fact, it is reflexive and the truth is that storytelling is actually reflexive to everyone. We all know that Dorothy HAS to make it home. If she didn't, we would lose our minds and walk out of the theater. This is because stories are, and have always been there to communicate and/or challenge the accepted ethics of our society in its current form. When The Wizard of Oz was released in 1939, the idea that "there's no place like home" was not only accepted, but was also comforting and thus, that movie resonated with its audience. In the 1946 film Song of the South, we see a slave who is happy to be a slave and happy to tell stories to children about his fun, fun life. The reason that movie could be made then was that it reflected a widely accepted ethic of its time. That movie could not be made now because (most) people have come to realize the horrors of slavery. We know on a deep level what story must do because we understand its inherent purpose.
The only challenge that remained now was how to apply these stories to their presentations!
Chapter Three: Applying the Method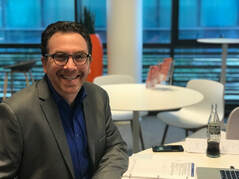 The presenters used one of two methods for the application of their newfound storytelling skills to their presentations. Some of the students chose to simply structure their presentations similarly to how the beats of a story are laid out. An example of this would be that the world on a normal day was experiencing a certain disease and every day, we were seeing the effects of this disease play out in numerous ways. Then one day, a company came out with drug X. Because of that, we can now began to see change until one day, the disease will be eradicated.
The other way that the presenters chose to apply storytelling to their presentations was to begin with an actual story and to then dive into content. For example, I told them that rather than start with "hi, my name is _____ and I want to talk to you about disease X," they could say something like, "I want to tell you about Jane." The story could then continue, "Jane was a twelve year old girl who loved to play sports and had a wonderful life with her friends. Every day, Jane would play baseball with her team and become the star first baseman she had been working towards becoming. Then one day, Jane got what felt like a cold. This cold began to develop and within 24 hours, Jane was taken to the hospital where she was diagnosed with disease X and had to have many procedures to stop the spreading of the disease. Today, I want to talk to you about what our company is doing to help all the 'Janes' out there." This fictionalized, but sadly common story, (which would not be fictionalized in an actual presentation) is story-based and has the power to motivate due to its inherent emotional quality and personalization. The storytelling adds power.
---
Chapter Four: The Results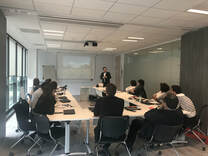 Watching the presenters deliver their presentations again, with the addition of story, at the end of the course was a profound and moving experience for the whole class. The overlay of story made for presentations that were way more impactful and thus more memorable. I was not alone in having chills many times while listening and watching them. I was also not alone in tearing up as well. Imagine the kind of impact that story could have for an audience of health care professionals with the power to affect change.
​
While we traditionally think of storytelling as a tool for writers and artists, it can have such varied applications. This course was for people in the Pharma industry but the same applies for many fields. If you are someone who needs to affect change in what you do, storytelling is for you!
​
Want to dip YOUR toes into the story pool? Try this: watch your favorite movie and write out the whole plot in 10 sentences. Each sentence should start with the following prompts:
Once upon a time, there was…
And every day…
And every day…
Then one day…
And because of that…
And because of THAT…
But then…
And because of that…
And so…
And finally…
Please share your stories with me in a comment here.
Happy storytelling!!